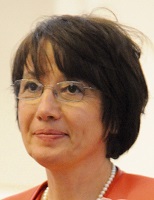 FRANCOIS-XAUSA Maryse
Is the Senior Vice President of Alstom's Renewable Power Research & Development. In this role, she is responsible for Alstom's Renewable Power R&D strategy which includes enhancing the company's expertise and innovation practices for hydro, wind, ocean energy and concentrated solar power, as well as managing alliances and partnerships with external stakeholders. She also leads Alstom's network of Hydro Global Technology Centres in Grenoble, France; Birr, Switzerland; Taubaté, Brazil; Sorel-Tracy, Canada; Tianjin, China and Vadodara, India.
In addition to her R&D responsibilities, she is in charge of product marketing for hydro power plant electro-mechanical equipment (turbines, generators, control systems, hydro-mechanical, balance of plant and services).
Maryse François-Xausa has played a major role in a number of important hydro projects for Alstom, including Three Gorges in China, Chief Joseph in the United States, Eastmain in Canada, Son La in Vietnam, Santo Antônio in Brazil and Vishnuprayag in India, as well as the variable speed pumped storage plants of Nant de Drance and Linthal in Switzerland.
In addition to her Alstom responsibilities, Maryse François-Xausa is Vice President of the Hydro 21 association and Vice President and a member of the Board of Directors of TENERRDIS (a competitiveness cluster for the development of renewable energies).  She is also a member of the Board of Directors of the Jules Verne Institute of Technology (IRT) and casting technology institute of France (CTIF). Finally, she is a member of the scientific committee of the International Association for Hydro-Environment Engineering and Research (IAHR) and a member of the scientific steering committee for the French National Research Agency (ANR).
Prior to Maryse François-Xausa's current position, she led Alstom's turbine technology centre and the hydraulic department. Prior to this, she held leadership positions in information technology and technical management at Alstom.
Maryse François-Xausa joined Alstom Hydro in 1986 as a hydraulic engineer specialized in pump turbines.
Maryse François-Xausa holds degrees from the École Polytechnique, the École Nationale Supérieure de Techniques Avancées and the Institut d'Administation des Entreprises de Paris. She attended the Advanced Management Course at INSEAD and she holds a Honoris Causa doctorate from Québec University's École de Technologie Supérieure. She is awarded the Grand Prix d'Hydrotechnique from the Societe Hydrotechnique de France (SHF) and was recognized as one of the leading women in Research and Technology by Hydrovision International.
Maryse François-Xausa is a Knight of the French National Order of Merit.
Article published in the Encyclopedia of Energy with Michel Bernard, Couston Michel and Sabourin Michel
: